The labor shortage is one of the main problems faced by the restaurant industry. After the struggle with covid-19 the industry getting surviving. In this scenario finding the right employees are challenging and the industry is also facing a labor shortage. It was necessary to verify the fact that the restaurants had a shortage of workers.
In this blog, we are discussing:
The reason behind the labor shortage
The pandemic affect
How important is an employee to a restaurant
How the labor shortage could affect your restaurant
Where are they and how to attract them
Tips to attract laborers to your business
How to solve the labor shortage issue by relying on technology
The reason behind the restaurant labor shortage
You need to make changes to the work environment and other business activities to retain your existing employees and attract new ones to the business. A recent study shows that the employee quitting rate in the food industry is very high. The main reasons for that are everyone expects a better work environment, better salary, and career growth.
There is no labor shortage, never has been and never will be. It is not that there is not enough staff available. The biggest problem is finding the best employee for our needs.
Many believe that today's generation does not like working in the restaurant industry. It is a misconception. many people leave restaurant jobs because their wages are insufficient for their living expenses.
A study shows that 43% of Americans are actively looking for a new job and over 50% of workers are considering leaving their company in the next year. Employees in various industries are looking for a job change because they think or expect a better work environment and career growth.
Along with that, employment opportunities are also increasing. The interesting fact is that employees who quit are only looking for better opportunities or other industry jobs.
The pandemic affected
The pandemic also affected the workers. Because many businesses closed and workers lost their jobs, so they started working in other industries. After the pandemic hit they lost their skilled employees.
Hiring or retaining a skilled employee costs a lot of money. Restaurants that are often struggling after the pandemic can't afford to keep skilled employees with high salaries.
When many businesses are unable to retain employees, they try to hire low-paid employees who don't have much experience.
There is a shortage of staff when they do not get the employee at the salary they offer.
After re-establishing their business, they are unable to bring back their employees. This is one of the reasons for the restaurant labor shortage.
How important is an employee to a restaurant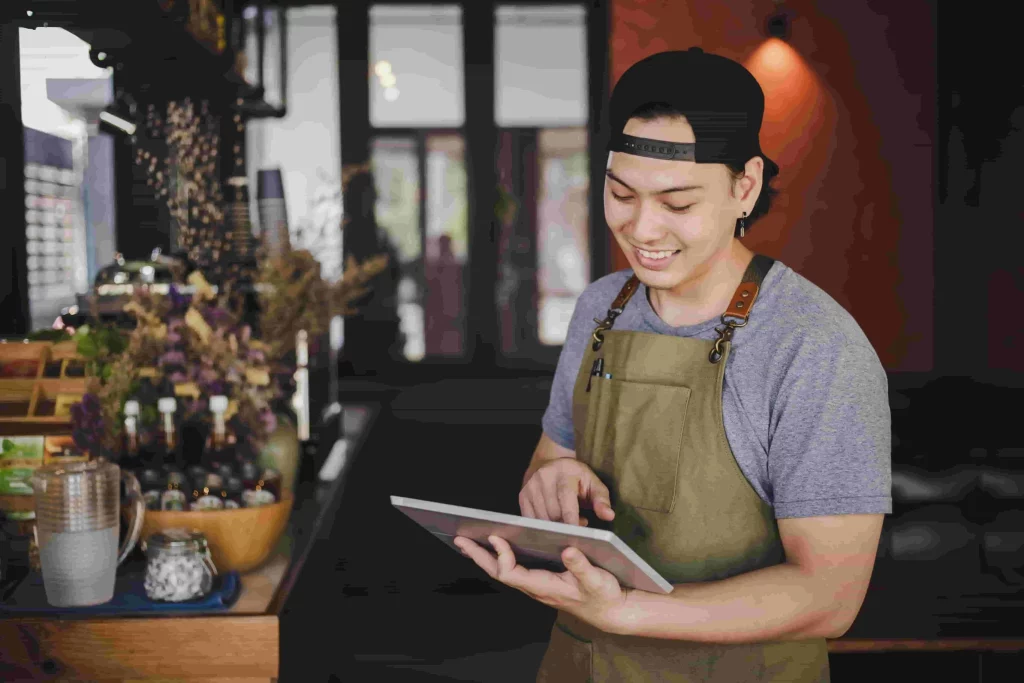 The key success of a restaurant is excellent service. Your employees will interact directly with the customer. You need to give your employees the same priority as your customers.
They play an important role in improving the quality of your service. So it is crucial that your employees are the most hardworking and skilled.
To provide a premium dining experience to customers your employees should be well-trained. Make sure your customers are committed, confident, dedicated, positive, hardworking, team-oriented, and proactive.
How the Labor Shortage Could Affect Your Restaurant
For a busy restaurant business, understaffing can negatively affect your service quality. Let's take a look at how the restaurant labor shortage is affecting your restaurant.
The customer has to wait for a long time for food
To provide the best customer service experience, you need to ensure that your front-of-house staff is working properly. Otherwise, it takes a long time to receive and serve the food order and it creates a negative experience for the customer.
But for the restaurant business, having too many people at the front of house to take and serve orders can also lead to congestion.
Also, not having enough chefs in your back of house can increase food preparation time and lead to customer dissatisfaction. When you run out of labor in your back-of-house, existing staff have to prepare food. The chefs are unable to consider the quality of food as the orders come in one after the other.
Pro tip: If you can't staff your front-of-house, you can implement technology such as self-service KIOSK. It helps the customer to place the order and make the payment themselves.
When the customer places an order it is passed to the POS and the kitchen. This will help you reduce order-taking time and reduce the number of employees.
Employee dissatisfaction
Existing staff will have to take on double the workload when there is a shortage of labor. Having to do double work for low wages can lead to employee dissatisfaction. It can lead to employee resignation.
Pro tip: Technology can help simplify operations in business. This will make your employee's work easier.
Many business owners think that making the work of employees easier will reduce their workload and they will not work for what they are paid. But, if we can make the employees' jobs easier, not only will their work be of quality, but also productivity will increase.
By using the KIOSK system, the work of the front-of-house employees can be made easier.
Hard to manage your online and online sales
Managing your online and offline business is hard, but keeping both channels efficient and profitable is necessary. with a limited count of employees, you cannot manage both channels efficiently.
A restaurant trying to run an online ordering business with limited staff cannot sustain the business. Speed of delivery is the core of the online business.
Pro tip: if you want to expand your online business and don't have many delivery boys, then you can go for aggregator online ordering. With integrated point of sale software, you can expand your online business with aggregator integration.
Chance to lose your existing labor
Trying to do business with fewer employees means doubling the work for other workers. This will force them to resign from their jobs. Cannot carry on business.
Where are they and how to attract them
Attracting employees to the business is crucial. They always wait for better opportunities. They may be working for another business. Employees will be attracted to the business if you can create a good work environment and pay a fair salary within the business.
Here are some tips to attract laborers to your business
Use social media for showing your work environment
Social media is the perfect platform to showcase your work environment. You can post about your kitchen, labor, etc on social media and promote your restaurant.
Make reels of your work environment and post them on platforms like Instagram. This will convince others that the work environment in your business is good.
It is possible to attract new laborers and retain existing laborers while offering a better work environment.
Show the technologies you use
Give priority to innovations in business. Use technologies that make laborers' jobs easier and spread them through social media.
For example, if you use restaurant POS software you can show how the order-taking works and pass it to the kitchen how to simplify labor tasks.
This will attract workers to the business as it will make their work easier and will make them more adept at using technologies.
Better salary
As you know, salary is an important factor in attracting workers. One of the main reasons for the restaurant labor shortage is the lack of fair wages.
A better salary package is required when hiring skilled employees. You are bound to pay a respectable salary in the industry. If you can offer a good salary package that attracts workers, you will be able to hire the best laborers.
Listen to them
You have to listen to your employees, consider them and solve their problems. It is important to retain your existing employees in business. Employees need to be encouraged to commit to the business.
You need to understand the problems they face in your restaurant and you need to be able to solve them.
How to solve the restaurant labor shortage issue by relying on technology
It is difficult to keep the business going with fewer laborers. But business can be managed by relying on technology. Even though technology has taken over the restaurant industry, technologies are helping to increase the efficiency of the business.
In many restaurants, food is served by robots. Many restaurants rely on technology to either get enough labor or reduce labor costs.
Restaurant management systems such as point of sale systems can be used to address restaurant labor shortages. It will help simplify the business and make it efficient.
You can manage your business from anywhere in the world and keep your inventory, sales, customers, employees, payments, and more.
Taking orders when you have limited staff
If you have limited employees, then you can set up a QR code menu or self-ordering KIOSK, so the customer can place orders themselves. There is no need for a server to take orders.
The contactless dine-in concept has helped restaurateurs manage businesses with fewer employees. This concept has undergone many changes as technology has changed. Perhaps the contactless dine-in concept was able to bring a big change in the restaurant business.
Customer ordering through the QR code menu:
– Customers access the digital menu by scanning a QR code placed on the table. and making payment
-The orders directly transfer to the kitchen and POS.
-The chef makes the food server deliver the food to the table.
Customers ordering food by using KIOSK:
The customer can place an order by using KIOSK. you can place a KIOSK system on your restaurant. The customer can place orders themselves without any help from your employees. They can also make payments by using the integrated payment option.
Customers can collect food from the counter when the food is ready.
It helps to streamline your order-taking and reduce your employee cost. You can carry out your order ranking operations with a very limited number of employees.
Identify your peak times
With a detailed POS report, you can access data and analyze your restaurant performance. You can analyze data, identify peak hours, and schedule more employees around your peak hours.
If you are struggling to get enough labor and you couldn't manage your rush hours, then the POS reports will help you to plan and schedule your staff for that hours.
Keep your top-selling items available
By analyzing POS reports as I mentioned earlier, you can identify your top-selling items. You need to make sure of the availability of necessary items available to prepare your top-selling items. With running a restaurant with a limited number of employees, it's hard to keep your inventory efficient.
However, it is very difficult to always check and ensure stock is available. So POS software helps you manage and maintain your inventory efficiently. It also notifies you of a notification when the item runs out.
Or you can set a preset level and when the stock goes down it automatically generates a stock order.
So you can reduce manual operations. And you may not be able to manage your inventory efficiently with your limited number of staff.
Speedy checkout process
One of the problems faced by restaurant owners is managing the rush at the billing counter. Customers do not like to stand in long queues. Expansion of billing counters is not possible in these times of acute labor shortage.
However, you can speed up your checkout process by placing a KIOSK, offering different payment methods and printed receipts.
If you can offer multiple payment methods and digital receipts, customers won't have to wait long for payment transactions. They can make payments as "tap and go". You can also reduce receipt printing time by mailing invoices.
Identify your employees
Identify your best employees and reward them to keep them in business. POS tracks every employee and it helps you to identify their performance. It gives you better employee insight. You can also get detailed shift reports and more.
So you can identify your top-performing employees and maintain efficiency in all operations of your business.
Expanding business
Expanding the business is unthinkable if you only have a limited number of employees. Online business is highly profitable.
However, if you are using an online integrated restaurant POS, then you can start selling with online aggregators. The POS system allows you to manage your online and offline orders and minimize manual business operations.
The system automates all of your business operations. It will help you to gain more visibility and opportunity to expand your business.
Technology is a great solution to the labor problem facing restaurant businesses. Implementing technology into the business helps in increasing the efficiency and success of business.
The problem of not getting Labor is likely to increase in the coming years. Success will be difficult if you don't take actions that need to be made in the business.