The restaurant industry is becoming more and more competitive day by day. The only way to stand out in the market is to keep up with industry trends. Keep an eye on market changes, customers, technology, and more. keeping up with industry trends can help you to plan and forecast. So its time to discuss how to keep up with the restaurant industry trends
1. Read restaurant industry blogs
Reading industry blogs is a great source of knowledge gaining. there are so many blogs consistently writing about the restaurant industry. you will get everything to run your business. new market trends, strategies tips, and more.
Just google "restaurant industry trend" and you can find so many blogs. to know what's happening in your industry this is a great source.
You can also subscribe to a newsletter, so you will get industry news instantly through emails. this is one of the simplest ways to keep up with trends.
2. Research on social media
Analyzing your competitor is the best way to keep up with the current trend. you can use social media for that.
Your competitors or industry leaders are active on social media platforms like Instagram, Facebook, and more. analyze what technology, and trends they use. stay updated with your competitor.
This platform is also helpful to show customers that you are on the trend.
3. Talk to other restaurant owners, managers community
To grow in any industry community are helpful. for example, as a content writer, we have a WhatsApp community
Growing up in any industry community is helpful. For example, as content writers, we have a WhatsApp community. that helps us to grow our careers. we ask about our doubts, share thoughts, and more.
There are a lot of restaurant community groups on Facebook, and WhatsApp. join that community, and share thoughts and doubts with experienced industry experts.
4. Set Google alerts for your industry updations
Google Alerts is a free service offered by Google. you can set a specific keyword as an alert. whenever someone mentions the subject of the notice you entered, the service will send a mail with the specific link to your email address.
For example, you can set Google alerts with the keyword "Restaurant industry Trend". If someone wrote a blog including that specific keyword, Google Alerts will send you an email containing that blog link.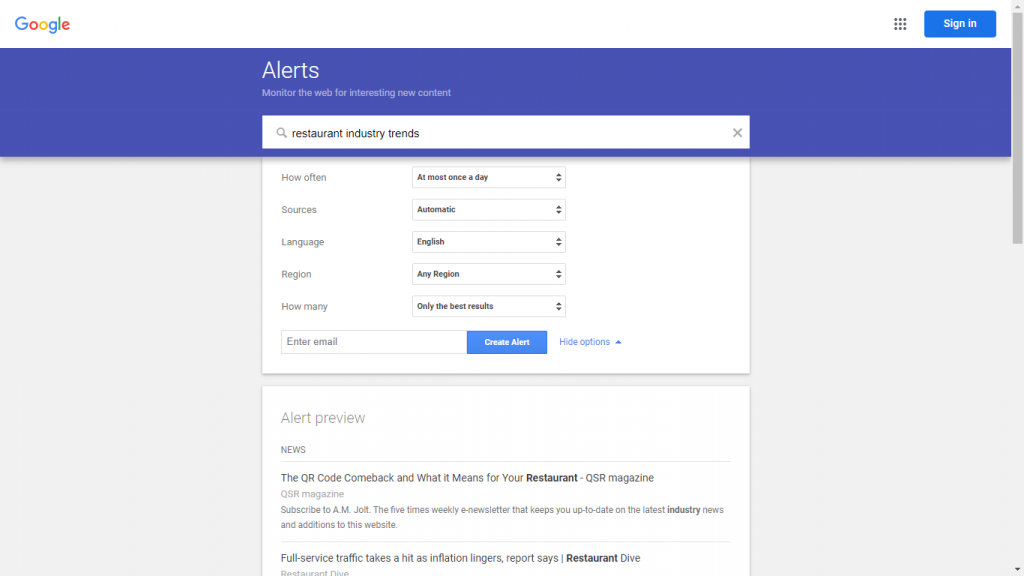 It helps you to keep up with restaurant industry trends. set google alerts within one minute.
Choose how often you want to receive updates (as-it-happens, once a day, or once a week).
Type in the search query you want to get an alert.
Choose results you want to follow (everything, news, blogs, video, discussions, or books).
Select the language and Region you want alerts from
Choose if you want "Only the best results" or "All results."
Give the email address you want your alerts sent to, or create a feed.
Click "Create Alert."
Some restaurant industry trends
Facilitates better customer engagement through personalization.
Automation is permanent in the restaurant industry trends.
Building a community and maintaining relationships are more crucial than ever.
Data is needed for optimal customer retention.
Technology relieves workers' stress.
Online presence is more important.
Ghost Kitchen grows.
Frequently asked questions
How to keep up with the restaurant industry trends?
Read restaurant industry blogs
Research on social media
Talk to other restaurant owners, managers community
Set Google alerts for your industry updations
Is the Restaurant Industry Growing?
Between 2017 and 2022, the US chain restaurant's market size increased by an average of 2.2 percent a year. so yes restaurant industry is growing.
Why the restaurant industry fails
Not every startup fails. the reason for failing a restaurant there is a lot of reasons such as management, marketing, service, technology, capital and location, and more…
Is the online presence of a restaurant important?
Yes, it is. There has been a huge increase in internet usage since the pandemic. The customer like to order online. they look online platforms for suggestions before buying a product.
Related blog: How to Survive the restaurant labor shortage